Filter Plates - Filter Applications
Product Announcement from Klinkau America, Inc.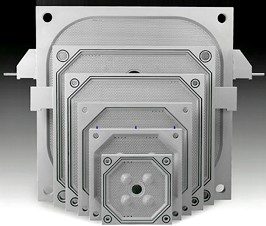 The recessed-chamber filter plate made from polypropylene originated from the plate and frame filter plates. The application and filtration conditions dictate the cake thickness and plate thickness. The Klinkau Chamber Filter Plate can also be supplied in caulked and gasketed design (CGR).
Polypropylene became the material of choice for chamber filter plates due to relative low initial cost, excellent chemical and corrosion resistance, and light weight handling.
ADVANTAGES OF THE KLINKAU CHAMBER FILTER PLATES
Fixed volume recess depth
The recessed area of the chamber filter plate is molded with conical pips. The surface of the pips provides support for the filter cloths and provides a drain path for the filtrate to exit to the filtrate discharge port.
The chamber filter plate can be supplied with customer requested feed eye arrangement. The sealing surface of the chamber filter plates are machined parallel to seal when the plates are pressurized.
---