Welded Membrane (Diaphragm) Filter Plates
Product Announcement from Klinkau America, Inc.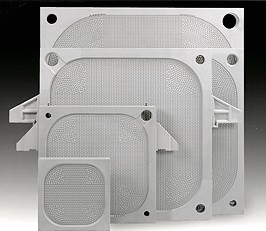 Membrane Filter Plate Systems provide the following significant advantages compared to other Filter Plate System designs: increased cake solids, faster cycle times, efficient cake washing, and increased production rates.
Klinkau Membrane Filter Plates fixed welded are available in (2) one-piece designs: Standard welded and empty chamber welded.
MEMBRANE FILTER PLATES STANDARD WELDED
Klinkau Membrane Filter Plates Standard welded are primarily used for applications with homogeneous chamber fillings and standard process parameters. This design requires a minimum cake thickness after squeeze of 1/3 of the initial cake thickness. The innovative combination of membrane filter plate and chamber filter plate (mixed pack) reduces the initial investment costs and guarantees excellent filtration results.
MEMBRANE FILTER PLATES EMPTY CHAMBER WELDED
Klinkau Membrane Filter Plates Empty Chamber welded design is mainly used for more difficult applications and allows squeezing into an empty or underfilled chamber without damage to the inflated membranes. This Empty Chamber system is especially suited for filtration processes with uncontrollable chamber fillings and variable batch sizes.
---