Barium Fluoride Windows for Medical Imaging
Featured Product from Knight Optical (UK) Ltd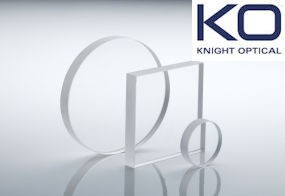 Knight Optical can offer Barium Fluoride Windows for use within Medical Imaging.
We supply a range of barium fluoride windows for a range of applications. All individually QA checked and metrology tested for quality to ensure parts meet customer specification. Supplied in a range of sizes and shapes with custom coatings tailored to meet your individual applications.
Knight Optical supply precision optical components to customers in the medical industry for applications such as medical thermology and thermography. Barium fluoride optics are used in the detection and screening of breast cancer and for screening for atypical pneumonia (SARS) covid and monitoring respiratory conditions.
Due to barium fluoride's high radiation resistance, it is ideal for use in high radiation (x-ray/gamma rays) environments. Other applications include cryogenically cooled thermal imaging systems, infrared spectroscopy and high energy neutron detection.
Typical specs:
Material: Barium Fluoride (BaF2)
Shape: Circular Windows, Square Windows
Dimensional Tolerances: +/- 0.1mm
Parallelism: < 3 arcminutes
Surface Quality: <60-40 Scratch/Dig
< 0.5 λ PV@ 633nm
Coating: Antireflective coatings for application bandwidth (if required)
All our Barium Fluoride Windows are fully inspected on their quality in our ISO 9001 certified, state-of-the-art Metrology laboratory, using our Zygo Verifire Interferometer and Trioptics PrismMaster. This allows us to work to the highest QA standards and meet the tolerance specifications on these precision components.
Contact our technical sales team to discover how Knight Optical's high quality Barium Fluoride Lenses and superior service can improve your instrumentation and supply chain experience.
UK, Europe, Asia & RoW: E-Mail info@knightoptical.co.uk Tel +44 (0)1622 859444
USA & Canada: E-Mail usasales@knightoptical.com Tel +001 401-583-7846