Optical Glass Domes for High Pressure Applications
Product Announcement from Knight Optical (USA) LLC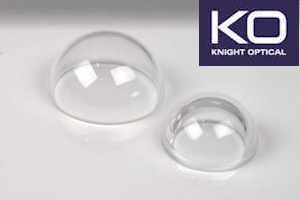 Knight Optical offer high pressure optical domes for underwater exploration, AUVs and ROVs.Dome windows are hemispheres. The two optical surfaces are an equal thickness apart. This lends itself to a naturally strong shape under high pressure and makes dome windows ideal for viewport applications such as underwater cameras and submersibles.
| | |
| --- | --- |
| Diameter tolerance (mm) | +/-0.1 |
| Thickness (mm) | +/-0.1 (+/-0.2mm for 100mm diameter) |
| Surface finish | 60:40 |
| Chamfers | 0.2 x 45° typical |
| Centricity (mm) | < 0.1 |
Typically, the material used will depend on the working wavelength of the application with BK7, UV fused silica (Spectrosil) and sapphire being commonly used. Sapphire transmits well in the visible and IR spectrum and has the added benefit of being exceptionally hard. BK7 offers a cost effective solution for visible applications and UV fused silica is ideal for operating wavelengths below 400nm.
Polished domes from 5mm to 200mm in diameter and 0.25 to 100mm in thickness offer high transmission and toughness for harsh environments.
Protection of electronic sensor systems from harsh liquid and gas environments is offered by a readily mountable, optically clear dome.
Domes are offered in:
BK7

Quartz

Fused silica

UV fused Silica

Silicon

Germanium

Sapphire

PMMA.
Knight Optical's fused silica domes have been tested to >10,000psi without fracture. Contact our technical sales team to discuss your requirements for optical domes, as well as our other components.
Contact our technical sales team today and find out how we can improve the quality of your application.
Tel +44(0)1622 859444 | Email contact@knightoptical.co.uk
Tel +(001)401 583 7846 | Email usasales@knightoptical.com
---