Concrete Vapor Barrier & Moisture Emission Control
Product Announcement from KOSTER American Corporation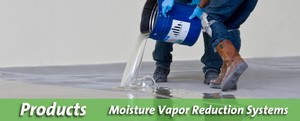 The Koster VAP I resins were specifically formulated to cure under extreme moisture vapor conditions and remain unaffected by high levels of alkalinity.

A true one-coat system, easy to apply, V.O.C. compliant, little to no odor, that allows flooring to be placed after a 12-hour cure.

ASTM D-1308 test method: unaffected by a pH 14.

ASTM E-96 test method: 97% reduction in moisture vapor emissions.

ASTM D-4541 635 psi (100% cohesive failure of substrate).

Warranty for vapor levels of 25 pounds / per 1000 sq.ft. / 24 hr.

Single-Source, 10 year, multi-million dollar independently insured warranty covering our systems, and the specified flooring with an owner's umbrella included in the policy.

VAP I System can be applied to green concrete 7 days old, making the surface available for flooring after just 10 days of placement.

VAP I Systems are only applied by manufacturer trained and approved applicators.
---