Hybrid Stepper Motor
Featured Product from Kollmorgen Corporation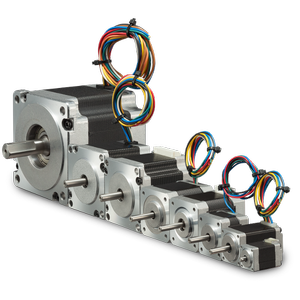 Kollmorgen continues its winning heritage in hybrid stepper motors with the PMXTM Series motor family. These high-performance, brushless, maintenance-free stepper motors provide very preside, extremely cost-effective motion control. These hybrid stepper motors inherently move in small, very precise, 0.9°, or 1.8° increments (400 or 200 steps/revolution). This stepping action is simple to control and does not require complicated, expensive feedback devices.
PMX Series motors include smaller Nema 08, 11, and 14 frame sizes in addition to the traditional Nema 17, 23, and 34 frame sizes. Each frame size is built with high quality construction in an affordable, market competitive solution. Numerous co-engineering options are also available.
Kollmorgen PMX stepper motors offer:
High torque/dollar - High quality performance in an affordable low-cost solution
Wide range of standard options including: bipolar and unipolar windings, integral connectors, shaft flats and keyways, rear shafts, IP65 sealing.
Options for 1.8 and 0.9 degree step angles (PMX17 and PMX23)
Easy to apply worldwide - CE, RoHS, REACH
Localized Kollmorgen support offers access to immediate technical expertise. Kollmorgen's flexible manufacturing means seamless co-engineering capabilities. These include:
Shaft modifications - special shaft dimensions special features including: flats, spline shafts, helical gears, and acme leadscrews.
Winding modifications -special windings to match current, resistance, or inductance requirements.
Connectors and leadwire - special leadwire colors and customer-specified connectors.
Encoders - factory mounted incremental or absolute encoders with various line counts.
Gearboxes - factory mounted planetary and spur (offset) gearboxes.
Kollmorgen offers competitive lead times for both standard and custom motors. Kollmorgen's competitive pricing means that OEMs no longer have to make tradeoffs on motor quality, performance or technical support to obtain lower costs.