Automated Cranes from Konecranes
Product Announcement from Konecranes Inc.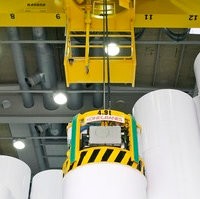 Konecranes leverages the latest technology to improve lifting business.
Cranes can be designed for manual control assisted by semi-automatic features, or for full-automation control, depending on the requirements of the application.
Konecranes leads the way in the development of the next generation of smart features and automated crane systems, in a diverse array of applications ranging from steel coil handling to paper roll storage and retrieval, waste-to-energy, shipbuilding, container handling, food production, primary metals, and general manufacturing.
Automated cranes can reduce labor costs, track inventory, optimize storage, eliminate damage, and reduce capital costs associated with forklift systems and increase production and throughput. Every industry application has areas of opportunity that can be maximized through automation.
Our approach to automation expands the benefits of Programmable Logic Controllers (PLC's) through the use of remote input/output connected with a field bus. This approach dramatically and completely integrates many remote devices into the control system, reducing wiring requirements. Automated cranes with PLC's and device bus systems allow a multitude of devices to be connected at minimal cost—combining the benefits of a simpler electrical design with longer-wearing, semiconductor-based parts.
Software design is an integral part of crane automation. Konecranes uses the Structured Analysis (SA) method to develop and maintain crane automation software. The advantages of this method include: easy accommodation, readily understood, and the quick development of workable solutions. This system shortens delivery time by allowing several software engineers to work simultaneously on the same project.
Please click on the links for more information or request a quote today!
---