Koncranes Critical Components Assessment
Product Announcement from Konecranes Inc.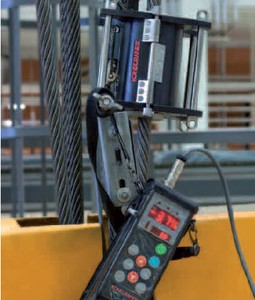 Undetected defects and/or deficiencies in load-bearing or safety-related components can lead to catastrophic failure. Most compliance and preventive maintenance inspections rely on visual observations and measurements. Unfortunately, what you can't see can hurt you. Certain defects and deficiencies cannot be seen with the naked eye; others may occur within components that are not normally disassembled for inspection.
Konecranes' Critical Components Assessment has been specifically designed to address this very issue. By utilizing Non-Destructive Testing (NDT), proprietary technologies and proven techniques, our certified inspectors and technicians apply their experience and expertise to ensure that your crane's critical components are free of defects and deficiencies. To provide maximum flexibility, the various modules of the Critical Component Assessment can be applied individually or grouped in the most appropriate combination to suit your particular application.
At a minimum, Konecranes highly recommends the Critical Components Assessment in the following situations:
older equipment with 10+ years of service
process duty applications
equipment being used beyond the original design duty
equipment that may have been overloaded
whenever it is recommended by the Original Equipment Manufacturer
Whatever the findings or recommendations, the Konecranes team can provide you with the required repairs, replacement parts and training to ensure the safest possible operation of your equipment. When needed, we can also provide you with complete engineered solutions that maximize your productivity while minimizing down time and total life cycle costs

Play Koncranes Critical Components Assessment Video
---