Overhead Crane "Smart Features" by Konecranes
Product Announcement from Konecranes Inc.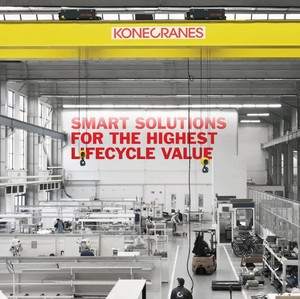 You are thinking about material flow, capacity utilization, effective use of space and minimizing downtime. You are constantly trying to figure out how to remove bottlenecks in production.
A smarter crane does more every day
When your crane operator is driving your crane through tough spots, the flow is bound to slow down. If there are a lot of difficult maneuvers your operators have to do several times day in and day out, there is a way to save a lot of time.
Easier to handle
Konecranes' Smart Features will make your crane much easier to handle. That means the learning curve of training and practice is accelerated. Of course a trained and skilled operator is still key to your operations. However, a new operator no longer needs to learn how to manually compensate for load sway.
Not only that, but Smart Features will also remove a lot of the stress your crane operator is under on any given day. That means he or she is likely to be more alert, more relaxed and able to do a better job.
SWAY CONTROL - Prevent load sway.
The operator does not have to manually prevent swaying. Instead he or she can concentrate on completing the task at hand as fast and as efficiently as possible.
POSITIONING - Position a load on a predefined spot.
Positions a load on a predefined place. Saves plenty of time as positioning is the most time consuming phase in a lifting process when done manually.
SYNCHRO - Two or more hoists lifting a load in sync.
Makes it safer to handle long pieces with two or more hooks. Synchro keeps the hooks at the same elevation during hoisting so that there is little danger of the load becoming unbalanced.
SAFETY
There is no doubt that safety is your top priority. It is our top priority as well. At Konecranes there is no job so important or service so urgent that we cannot take the time to perform our work safely and correctly.
While less serious than personal injury to people, damage to loads your crane is carrying can also be disruptive to your business. You know precisely how much it costs you when a finished product ready to be shipped to the customer is damaged. Konecranes provides smart technologies that allow for safer, more controlled movement of loads.
A Smarter crane keeps your people and products safe
Accidents involving your workers are occurrences you do your utmost to prevent. It's something you and your people definitely keep in mind every day when moving in close proximity to heavy machinery.
When one of your cranes is carrying a load that is long or heavy even a small operator mistake can be magnified and lead to much more serious consequences.
Our goal, and yours: no accidents
Safety for personnel is a top priority, but you are also concerned with material safety. You don't want a product worth tens of thousands of dollars to be damaged when it's being moved from one place to another inside your plant.
If you have had just a single crash a year, it probably cost you more than it would to install the appropriate Smart Features to all of your cranes.
---