Port Cranes from Konecranes
Product Announcement from Konecranes Inc.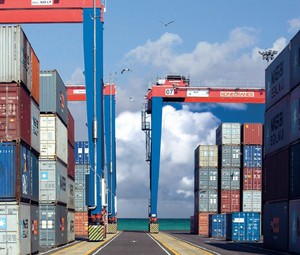 Container Cranes
Every container crane by Konecranes is individually designed to meet our customers' requirements. Close cooperation with the customer's engineering, operating, and maintenance specialists are integral to every project. Our container cranes are designed according to the latest standards. The specifications are for maximum reliability, safety, high-operating efficiency, long-life, and low maintenance costs.
In order to meet the needs of our customers, Konecranes has developed two types of standard container cranes: Ship-to-Shore Cranes and Wide-Span Ship-to-Shore Cranes.
Bulk Handling Cranes
Konecranes bulk handling cranes have industry's leading unloading rates. Because of this, more than 70 ports worldwide have chosen an unloader by Konecranes for offloading bulk materials from ships. The new AGD Grab Unloader is a prime example of the continuous development work of Konecranes on all fields of crane technology. AGD Grab Unloader with its extremely simple rope reeving design and standardized drive machinery provides the customer ease of maintenance and excellent operational reliability.
Gantry Cranes
Gantry cranes engineered and manufactured by Konecranes meet the test for high performance lifting, day in and day out. Our large gantry cranes lead the industry in technical performance for shipboard use, on-rail use and, in the case of our rubber-tired models, any other environment where high performance lifting is required.
All of our gantry crane models feature Konecranes' patented active load control technology, the most effective anti-sway system on the market. They also feature easy maintenance and comfortable operation.
Our shipboard gantry cranes, installed on ship decks, are designed to load and unload containers, bulk material and unit cargo.
Rail-Mounted Gantry Cranes
You'll find Konecranes' rail-mounted gantry cranes efficiently lifting loads at high-volume intermodal terminals, moving containers from trucks to trains or from trains to trucks.
Konecranes' rail-mounted gantry crane is the market leader among 50-ton cranes. An impressive number of repeat orders attest to customer satisfaction. A key selling point is the crane's lack of a hydraulic system, a clear advantage as the crane is designed to work in harsh marine conditions. It offers buyers high reliability with low maintenance and spare parts costs.
The rail-mounted gantry crane offers fast, efficient operation, with low energy consumption as it quickly loads trains and trucks for savings in operational costs.
The crane is equipped with a remote diagnostic system for convenient analysis of preventive maintenance needs and productivity.
Rubber-Tired Gantry Cranes
The Konecranes rubber-tired gantry crane is designed to operate with maximum reliability and performance with minimal maintenance. Several design features deliver maximum value:
16 gantry wheels that distribute the weight, reducing wear and tear on the container yard
A chainless, sprocketless direct gantry drive that delivers smooth movement with minimal maintenance
A patented system that prevents sway
A spreader equipped with horizontal fine positioning
Hydraulics only on the spreader - and not the crane - reducing downtime and maintenance
Hoist units designed with spreader trim, eliminating separate trim mechanisms
Konecranes' line of gantry cranes is backed by the company's more than 80 years of experience in engineering and building world-class lifting equipment - and a global maintenance team that has no rivals, delivering timely service to assure our customers maximum productivity.
YardIT - Positioning Products & Services
Konecranes YardIT has a mission to improve the efficiency of container terminals' material handling processes by utilizing real-time position information and wireless communications technology.
We are committed to help container terminal operators to improve the efficiency and quality of their operations - day in, day out. An efficient and high quality operation means happy customers, who in the long run are what keeps a terminal profitable.
Our business is to ensure that the container yard inventory is 100% accurate; eliminate lost containers and the high direct and consequential cost they cause; minimize empty driving, working together with TOS; maximize TOS performance by monitoring what really takes place in the yard; and improve container handling equipment efficiency by bringing speed and precision to their operation.
---