SMARTON Advanced Crane Technology by Konecranes
Product Announcement from Konecranes Inc.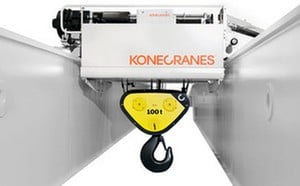 SMARTON (with Smart Features) can be used in industrial sectors such as steel handling and warehousing, automotive, general manufacturing, power, workshops, automatic storage systems and mining. Depending on the set up, SMARTON can lift loads ranging from 10 tons to more than 500 tons.
SMARTON is an evolutionary, not revolutionary, technology that combines time-tested components with innovative refinements. We wanted to introduce a crane that satisfies customer needs and is implemented using the best available technology. The development of SMARTON incorporates the experience we have accumulated from the maintenance of hundreds of thousands of cranes and from our extensive product range, which is the most comprehensive in the field of industrial lifting applications.
A key driver of the design is modularity with intelligence. The SMARTON offers a selection of standardized modules that are intelligently designed and coordinated. This innovative crane can be quickly configured to suit many customers' unique needs.
There is no need to equip SMARTON in the beginning with everything that the customer expects to use in the future. This crane can easily be updated anytime with additional features, such as automated positioning, defined working areas, maintenance monitoring or remote diagnostics.
SMARTON grows with the customer's business, enabling future needs and challenges to be taken into consideration. Customers will learn that they no longer have to compromise on features, delivery and performance. This machine will make ordinary cranes obsolete.
Save space and energy
SMARTON is a robust crane that is compact in size. This enables new industrial spaces to be smaller than before, reducing construction costs and heating expenses. The compact structure of SMARTON provides tight hook approaches, allowing the user to put the load down much closer to the wall.
SMARTON is designed with environmental responsibility in mind. Braking energy is fed back into the power grid, reducing energy consumption and energy costs by up to one third. In addition, SMARTON is made of 98% recyclable material. With its compact and modular design, SMARTON uses fewer natural resources in its production.
Maintenance friendly
SMARTON is more maintenance friendly than typical competing cranes in this lifting category. SMARTON consists of elements that maintenance engineers are accustomed to handling. The service panel enables faults to be solved quickly. Since the fault and its frequency are displayed on the panel, SMARTON is designed to speed up the inspection time, particular of the frequency inverter panels. The crane monitors its own condition and recommends when and what kinds of inspections or preventive maintenance should be performed. SMARTON keeps track of work cycles and predicts the remaining safe operating lifetime of the various components.
One of the main goals in the development of SMARTON was to minimize the frequency and duration of maintenance shutdowns.
Rope Lifetime
The service life of hoisting wire ropes is a key element in maintenance expenses. Wire ropes are costly, and changing them is a time-consuming task. We have clearly extended the life of the wire ropes by optimizing the pulley rope angles in the hook housing, making them as small as possible to reduce the wear and tear on the wire ropes. Additionally, another innovation in SMARTON is its ability to predict the replacement interval of the wire ropes based on actual operating condition.
Foldable Service Platform
The SMARTON service platform folds over the trolley to protect the trolley components. The space-saving, foldable platform is a brand new concept for which Konecranes has a patent pending. All of SMARTON's service points are located on one side and are easily accessible, as compared to other products on the market which require service points on both sides of the trolley.
Remote Monitoring Readiness Remote monitoring is an available feature with SMARTON. Three support centers located in different time zones around the world ensure that Konecranes can offer 24/7 support for equipment, regardless of the location. HIM: More than a radio … a Human Interface to Machine
SMARTON's intelligent, yet easy-to-use Human Interface to Machine (HIM) system keeps the user continuously up to date on not only the weight of the load but also its position relative to the available workspace. In addition, the crane monitors its own condition and recommends when and what kinds of inspection or preventive maintenance should be performed. This way, the customer can better plan and minimize maintenance shutdowns, thereby maximizing uptime and saving costs.
Makes operations easy and efficient
The HIM implementation tool makes it easy to understand the features of the device and speeds up user training. In case of problems, the user gets guidance from the device's error detection diagnostics. In other words, HIM can provide instant instructions on how to deal with a problem. And it's not only HIM providing instructions: With HIM, the crane operator can program SMARTON's working cycle - a feature that can definitely boost productivity.
For more information, contact us at smarton@konecranes.com or find a Konecranes location near you from our Contact section. If you want to send us a detailed quotation request, use our specified RFQ form.
---