Colibri Color Management Suite Software
Featured Product from Konica Minolta Sensing Americas, Inc.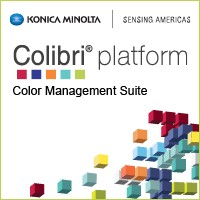 The Colibri Color Management Suite includes four modules for specifying, formulating, analyzing, and managing brand and product colors across the supply chain. This powerful software links each stage of the color process together, enabling users to define and share specifications, match and correct colors, monitor measurement data at each facility in real time, and coordinate color seamlessly from design to manufacturer to finished product. These modules can be purchased individually or as a suite package to be installed on the user's network or hosted in the cloud.
Colibri software is compatible with Konica Minolta Sensing spectrophotometers, providing users with a complete solution for controlling brand and product colors.
Modules:
ColorSpec – specify, manage, and communicate brand and product colors
ColorMatch – calculate color recipes, match and correct colors
ColorQuality – perform quality control assessments of color
ColorTint – transfer color recipes to dispensing machines