Horizontally Standing Spectrophotometer
Featured Product from Konica Minolta Sensing Americas, Inc.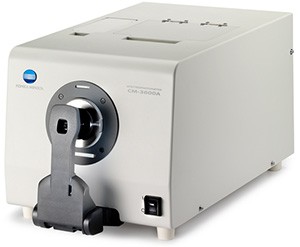 Designed to stand horizontally, the CM-3600A Spectrophotometer measures the color, relative gloss, and UV characteristics of opaque, transparent, translucent, and fluorescent samples small to large in size. This instrument is recognized for its advanced optical system, compact size, and features, including Numerical UV Control and simultaneous SCI and SCE measurements. This makes the CM-3600A ideal for evaluating materials with various surface conditions and optical brighteners. With accessories, the CM-3600A can measure transparent and translucent liquids.
Konica Minolta Sensing spectrophotometers are compatible with SpectraMagic NX quality control software to store measurement results and provide a more comprehensive color analysis, as well as Colibri Color Management software to specify, formulate, evaluate, and coordinate brand and product colors throughout the supply chain.
Geometry: Reflectance: di:8°, de:8°, Transmittance: di:0°, de:0°
Measurement areas: Reflectance: Ø4 mm, Ø8 mm, Ø25.4 mm, Transmittance: Approx. Ø17 mm
Inter-instrument agreement: ΔE*ab 0.15

Play Horizontally Standing Spectrophotometer Video on YouTube