Luminous Flux Measurement for LEDs and Lamps
Featured Product from Konica Minolta Sensing Americas, Inc.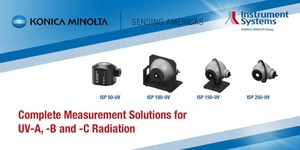 Instrument Systems offers complete measurement solutions for UV-A, -B and -C radiation starting from 200 nm. The operation of the well-proven Instrument Systems spectroradiometers, e.g. CAS series, with integrating spheres made from PTFE facilitates high sensitivity measurements of UV radiant power. Learn more about Integrating Spheres for UV.