T-10A and T10MA Illuminance Meters
Featured Product from Konica Minolta Sensing Americas, Inc.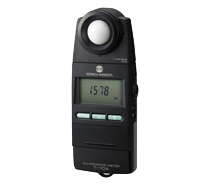 The T-10A/T-10MA is an easy-to-use handheld illuminance meter capable of measuring intermittent light sources. It is the ideal instrument for when you need to evaluate the illumination of light hitting a specific location or perform lux measurements. The illumination and average values of measurements will quickly display on the LCD screen, allowing you to easily compare illuminance values as a difference or percentage value.
This lux meter is easy to program; you can enter target levels by taking actual measurements, or you can manually enter the levels by typing them on the keypad. Its versatility allows for the measurement of both intermittent and continuous sources of light and automatic calibration when the device is turned on.
The auto-range function enables the T-10A/T-10MA to have the ability to measure an extensive range of 0.01 up to 299,000 lx, making it one of the most useful lux meters available today. Due to its special receptor design, this instrument is fully capable of accurately measuring the illuminance of pulse width modulation light sources. The task of measuring numerous sources can be simplified by removing the instruments receptor head.
The option to connect as many as 30 receptor heads allows measurements at several points simultaneously without having to move the instrument. This allows for large areas, such as movie screens, to easily be measured. For measurements in tight spaces, our convenient miniature receptor model is available.
Features:
Simple, multi-function operation, with keypad cover to avoid accidental operation
Automatic Calibration, adjusts to zero at powering on for immediate measurement
Auto-range functions enables the instrument to have the ability to measure a wide range, automatic or manual setting
LCD screen, backlit, LCD screen displays average values, illumination, comparison of illuminance values
Portable, small, compact, and powered by AA-size batteries
Versatile, has the ability to measure flickering light
Interface with computer changed from RS-232C to USB
Measurement of PWM-controlled light sources

Play T-10A and T10MA Illuminance Meters Video on YouTube