The new CM-26d Portable Sphere Spectrophotometer
Featured Product from Konica Minolta Sensing Americas, Inc.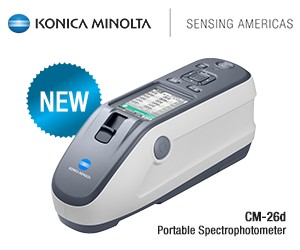 The new CM-26d portable sphere spectrophotometer offers unprecedented accuracy/inter-instrument agreement (IIA) of 0.12 DE* (average of 12 BCRA tiles), usually found only in laboratory-grade instrumentation. This extreme precision combined with an overhauled interface and multi-functional, customizable tools allow for superior color communication throughout your entire supply chain.
The CM-26d is the next generation of portable sphere spectrophotometer with a horizontal alignment, a design convenient for measuring the color of flat or large samples and narrow spaces and easy operation by right or left handed users.
Suitable for R&D, to Q.A., all the way down to production sites, this instrument has an array of applications and features for a plethora of industries. Switch the CM-26d to simple mode and eliminate confusion at the bottom of the chain by removing non-essential functions for a faster and easier experience. The new Job function allows for graphical representation/instructions for routine color measurements to be made within specific processes. Combined with a reduced measurement time, this allows users of all levels to maintain high levels of productivity, accuracy, and consistency. Also available as a free download is the CM-CT1 Configuration Tool software that allows users to create/write instrument settings as well as compile it into a file and share it within its supply chain to ensure instrument settings are consistent.
Additional features include:
°:8° geometry with Xenon Flash technology and Illuminated Sample Viewfinder
Two measurement areas: MAV (8mm) and SAV (3mm)
Best-in-class Inter-Instrument-Agreement for true "Digital Color Data Management"
Connectable via USB and optional Bluetooth™
Large and easy-to-read high-resolution 2.7" TFT color display
Group sorting of data by user-definable tags
Image-based workflows
Increase efficiency, reduce manpower and enable digital color data management across your globalized supply chain with Konica Minolta Sensing Americas' CM-26d