lightweight & compact luminance colorimeter
Featured Product from Konica Minolta Sensing Americas, Inc.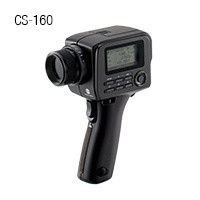 The CS-160 is a lightweight, compact and battery powered luminance and tristimulus colorimeter for the measurement of a wide range of luminance conditions and non-contact measurement of color. The CS-160 luminance and color meter allows luminance and chromaticity to be measured remotely with an acceptance angle of 1/3° for small light-emitting surfaces. It is the perfect marriage of efficiency and ergonomics with regards to spot measurements of color and luminance in a handheld portable instrument. The CS-160 provides an increased measurement range and a sensor that more closely matches the CIE 1931 color-matching functions.
To provide the most accurate measurement of luminance and color, the relative spectral response of the measuring instrument should perfectly match the CIE color matching functions. Alongside improved usability, the CS-160 features an improved correlation to the color matching functions which yield more accurate results that closely correlate with visual evaluation and a greatly improved measurement range up to 9,999,000 cd/m2