ADVANCE Software: Universal Software Platform for Surface Science
Featured Product from Kruss USA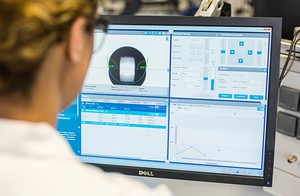 ADVANCE, an innovative software for interfacial chemistry, sets
new standards in intuitive operability. All functions relevant for a
working step are arranged in tiles that display everything required.
By avoiding menus and pop-ups, ADVANCE eliminates unnecessary
clicks and time-consuming searches for hidden elements. With this
maximum clarity, ADVANCE makes complex measurements for
research as easy as standardized quality tests.

ADVANCE is the perfect match for Kruss instruments in wettability
analysis, surface and interfacial tension measurement, and foam
analysis. All software modules have a powerful tool for creating
automated procedures that incorporate the manifold electronic
instrument components and include automated data processing
for calculating final results as well as exporting the data. Carrying
out analysis based on templates which use these automations
ensures repeatability and reduces measurement failures caused by
operating errors to a minimum.
Prepared for Lab 4.0
Thinking outside the box, ADVANCE was designed with an interface
(API) to communicate with other software. The API makes it possible
to expand the functionality of ADVANCE automation programs far
beyond individual sample analyses. Fully automated measurements
and data export can easily be incorporated in Laboratory Information
Management Systems (LIMS) or other integrated processes.