Take the guesswork out of coating performance
Featured Product from Kruss USA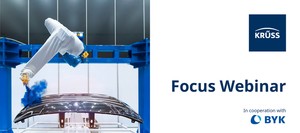 Take the guesswork out of coating performance
Coating problems are often difficult to resolve and make themselves known when it is already too late for a simple solution. Many coating developers turn to demanding trial and error to solve the problem, but it doesn't have to be that way.
Join us on May 11, 2021 in this focus webinar with a real case in cooperation with BYK presented by Dr. Andrew Mellor to crack the code to perfect coating.
What to expect:
Understand the scientific principles behind adhesion of coatings
Learn which parameters need to be optimized to achieve the best coating results
Topics:
How likely are the coating and substrate to stay together?
How compatible is the chemistry of the coating with that of the substrate?
How will the coating behave when it reaches the surface?
Join our free webinars
visit our new webinar section and stay up to date about our international free webinars on surface science and its applications.
Be part of the live events or watch recorded sessions on demand
Sign up for our newsletter
Our newsletter provides you with useful and interesting information about interfacial chemistry. Next to instructive application reports, practical know-how and tips for carrying out your measurements, you will stay up-to-date about our seminars as well as product developments.


Download our product overview
As an answer to the diverse scientific tasks in interfacial science, we provide a large variety of measuring instruments, accessories and services. Our new product catalog gives you an overview and enables you to compare individual products.


KRÜSS
As specialists in interfacial chemistry and the world's leading supplier of measuring instruments for surface and interfacial tension, we not only provide high quality product solutions - our offer is a combination of technology and scientific consulting. These include seminars, technical service, and our Applications & Science Center for professional measurement services. Many well-known companies have already been inspired by our know-how, precision and passion consulted by our offices in Hamburg, the USA, China, Great Britain, France and with the help of our exclusive distributor network. Acting quickly and flexibly, we are always at our customer's doorstep in the research and development laboratories as well as quality control centers of countless industries all over the world.