Free Standing KTrac Workstation Crane | 1 Ton
Featured Product from Kundel Industries, Inc.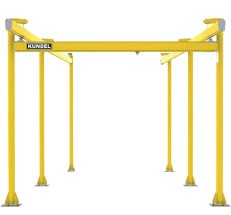 K-Trac comes custom built straight from the factory fl oor. Each system is designed to customer specifications including runway length, bridge length, post height, hook height and even location of incoming electric. Prior to production a detailed print of the system layout is sent to the customer for approval. Once approval is met the system goes into production. At that time each of the rail sections are sheared to the exact length required for the job. The sections are then assembled and painted. Once cured the hardware is installed according to the customers print. This greatly speeds up installation time (no pallet of parts). Every K-Trac is fully expandable allowing it to be recon figured or added on to at any time. K-Trac meets and exceeds all industry standards.
Kundel Industries, the world leader in custom cranes, continually strives to advance crane technology. Using state-of-art controls and the latest technology in materials, Kundel crane systems travel smoother and with less e ort than any other crane on the market. Kundel Industries continues it's investment to building a better product by the recent addition in the roll forming of our K-Trac Crane. During this advancement we have not only increased our material gauge, but also our material grade. This will provide our customers with increased spans between supports thereby increasing valuable floor space and decreasing cost. Custom Cranes are standard for Kundel. We feel that no two customer needs are the same and should not be treated the same, that is why we manufacture cranes tailor built to the customers speci cations. K-TRAC enclosed track crane systems maximize fl oor space without an obtrusive supporting structure or tying back to existing structures. Pre-installed maintenance free internal electric bar replaces messy festoon cable systems and all Kundel crane systems come with all components completely assembled on the system allowing for easy installation.