Monorails, Cranes & Intelligent Lifting Devices
Featured Product from Kundel Industries, Inc.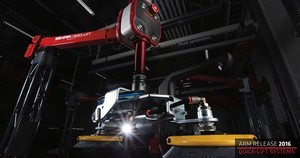 BRIDGE CRANES
Increase production and safety with a hoist and crane systems by Kundel. Monrails, jib cranes, bridge cranes or intelligent lifting devices Kundel has your solution.
Today's ergonomic lifting and cranes play a very important role in increasing production and safety in the workplace. Whether you are looking for a monorail, jib crane, workstation crane, overhead crane or intelligent lifting device Kundel is the industry's trusted source for today's lifting solutions.
Overhead crane training and safety training are instrumental in not only keeping your employees safe, but productive and selecting the right ergonomic solution is key. Monorails and shop cranes keep your work area safe and productive.
INTELLIGENT LIFTING
QuickLift Systems delivery precise and effortless movement through the entire range of motion with accurate placement and stability.
Patented Quick-Lift Systems™ transforms heavy lifting into part of an efficient and precise production chain. The lift becomes a direct extension of the hand's movements and requires only 20 g of actuating force to lift up to 300 kg. Our ergonomic lifting devices are light weight and very easy to maneuver.
Together with a stable suspension, it offers a smooth side movement with minimal risk for unforeseen oscillation. Unique integrated mechanical, electrical, pneumatic swivel enables continuous rotation of gripper. Quick-Lift Systems™ is available in the weight classes 50, 100, 200 and 300 kg.