Patent Pending | Jib Crane | Compression Tubes
Featured Product from Kundel Industries, Inc.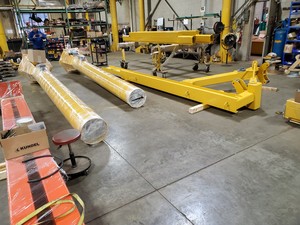 A new jib crane type has been developed by Kundel Industries. The patent-pending jib utilizes a pined compression tube, combined with double tension rods, giving a new modular component approach that lowers cost, increases efficiency. The new jib crane is outfitted with the Kundel "S" Trac trolley that eliminates trolley friction. The standard option feature of all Kundel jib cranes is quick boom leveling to stop jib drift. Also available is the Kundel foundationless pod system.