QL AC 75i Quick-Lift Arm | Ergonomic Assisted Lift
Featured Product from Kundel Industries, Inc.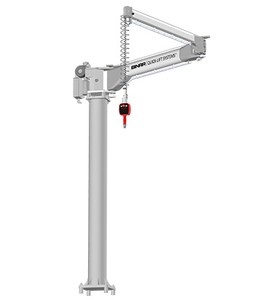 Patented Quick-Lift Systems™ transforms heavy lifting into part of an efficient and precise production chain. The lift becomes a direct extension of the hand's movements and requires only 20 grams of actuating force to lift up to 300 kg. Our ergonomic lifting devices are light weight and very easy to maneuver. The QL AC 75i is a food grade intelligent lifting arm - Up to 165 lbs.
Together with a stable suspension, it offers a smooth side movement with minimal risk for unforeseen oscillation. Unique integrated mechanical, electrical, pneumatic swivel enables continuous rotation of gripper. Quick-Lift Systems™ is available in the weight classes 50, 100, 200 and 300 kg.
Technical Data
Lifting capacity
Max 75 kg
Lift motor
Stepless servo-controlled asynchronous motor.
Maneuvering
Maneuvering is done with Quick-Lifts patented maneuvering handle.
Only a force equivalent to 20 grams is needed to engage the up/down motion. When the operator let go of the handle, the up/ down motion is immediately stopped.
Power supply
230V, 50-60 Hz, 1-phase with ground protection, 10A
Stroke length
2,7 meter
Hinged arm
Tripled hinged arm of anodized aluminum profiles. Length 4,2 m.
Suspension
Floor pillar in stainless steel with a height of 3 m.
Gripping device
Grippers are designed to fit customers need. Intelligent I/O signals are available for optimum functionality.
Daily care
Drive unit withstanding daily wash down and envi- ronments with temperatures up to 50° Celcius and a relative humidity of 80%. Handle and load cell box to be covered and protected against direct flushing.
Detailed wash down instructions to be evaluated for each specific application.
Use approved detergents for soft material. Check with your supplier