QL a 50i Quick-Lift Arm
Featured Product from Kundel Industries, Inc.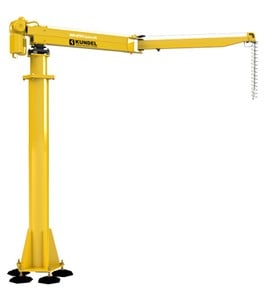 Patented Quick-Lift Systems™ transforms heavy lifting into part of an efficient and precise production chain. The lift becomes a direct extension of the hand's movements and requires only 20 g of actuating force to lift up to 300 kg. Our ergonomic lifting devices are light weight and very easy to maneuver.
Together with a stable suspension, it offers a smooth side movement with minimal risk for unforeseen oscillation. Unique integrated mechanical, electrical, pneumatic swivel enables continuous rotation of gripper. Quick-Lift Systems™ is available in the weight classes 50, 100, 200 and 300 kg.
Technical Data
Lifting capacity
Max 50 kg
Working area
Max recommended working radius R1 = L 1 - 300 mm
Min recommended working radius R2 = See chart
Stroke length
2,7 meter
Lift motor
Step less servo-controlled asynchronous motor
Power supply
230V, 50-60 Hz, 1-phase with ground protection, 10A
Hinged arm
Arm profiles in Ultra High Strength Steel (UHSS) Standard length 3 m.
Suspension
Floor pillar in painted steel with a standard height of 3 m. Optional pillar heights up to 5 m.
Maneuvering
Maneuvering is done with Binar Quick-Lifts patented maneuvering handle.
Only a small force is needed to engage the up/down motion. When the operator let go of the handle, the up/down motion is immediately stopped.
Gripping device
Grippers are designed to fit customers need. Intelligent I/O signals are available for optimum functionality.
Option
Middle link, 200 mm for triple hinged arm.