CBN grinding wheel used for CNC tool grinder
Featured Product from Kunshan Xinlun Superabrasives Co., Ltd.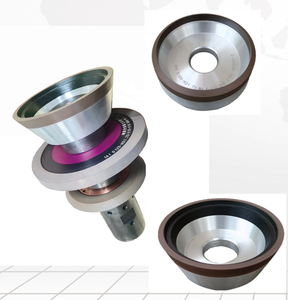 Application:
CBN wheels are to grind drills or milling cutters of material HSS, mold steel, stainless steel, etc.
Diamond wheels are to grind drills or milling cutter of material carbide.
Xinlun Superabrasives is a high-tech manufacturer of CBN/diamond grinding wheels.We look forward to sharing advantages of our company with you as below and hope to have the opportunity to cooperate.
Focus on CBN/diamond grinding wheels: having invention patents and utility model patents concerning grinding wheels manufacturing;
Having self-developed vitrified bond;
Applied industry: bearing, automotive, camshaft & crankshaft, fuel injection, transmission (gear box), air-conditioning compressors, tools, electronic products and molds, etc.
Stable quality and cost-effectiveness;
Typical customers: Schaeffler Group, SKF China(bearing), GETRAG (gear box), HONDA, Volkswagen, MITSUBISHI ELECTRIC, SUMSUNG, Panasonic, Hitachi, Galanz, DAIKIN, RECHI, and LAMDA and so on.