CBN grinding wheel used in centerless grinding
Featured Product from Kunshan Xinlun Superabrasives Co., Ltd.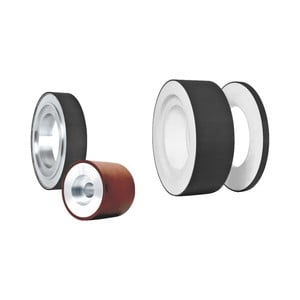 Applications:
Small diameter shaft grinding;
Compressor camshaft journal grinding
Xinlun Superabrasives is a high-tech manufacturer of CBN/diamond grinding wheels.We look forward to sharing advantages of our company with you as below and hope to have the opportunity to cooperate.
Focus on CBN/diamond grinding wheels: having invention patents and utility model patents concerning grinding wheels manufacturing;
Having self-developed vitrified bond;
Applied industry: bearing, automotive, camshaft & crankshaft, fuel injection, transmission (gear box), air-conditioning compressors, tools, electronic products and molds, etc.
Stable quality and cost-effectiveness;
Typical customers: Schaeffler Group, SKF China(bearing), GETRAG (gear box), HONDA, Volkswagen, MITSUBISHI ELECTRIC, SUMSUNG, Panasonic, Hitachi, Galanz, DAIKIN, RECHI, and LAMDA and so on.