Piranhaflex™ Series PFAN388NC
Featured Product from Kuriyama of America, Inc.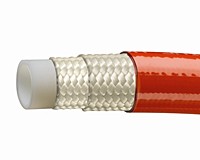 Piranhaflex™ Series PFAN388NC is ideal for medium pressure hydraulic lines commonly used on vehicle mounted aerial devices such as Boom Trucks and Cherry Pickers. Hose is lightweight and flexible and complies with the ANSI 92.2 standard for Vehicle Mounted Aerial Devices. Product features less than 50 microamperes leakage when subjected to 75,000 volts/ft. for 5 minutes. Ideal hose for non-conductive medium pressure hydraulic hose applications.