Crystal clear Phthalate Free PVC Transfer Hose
Featured Product from Kuriyama of America, Inc.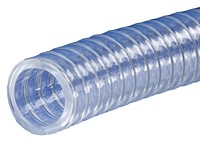 POLYSPRING® Series K7160 Standard Wall PVC Food & Beverage Vacuum/Transfer Hose
Construction:
Crystal clear Phthalate Free PVC compound, formulated with ingredients in compliance with applicable FDA(03) requirements, meets USDA(18), 3A(01), NSF(13) and RoHS(16) criteria. Reinforced with helically-wound spring steel wire.
Features:
29.9" HG vacuum rating at 70ºF
Spiral wire reinforcement prevents kinking or collapsing ... hose diameter will not expand under normal rated working pressures
Crystal clear - allows visual confirmation of product flow
Glass-smooth interior - reduces material buildup
Electrogalvanized helical steel wire can be used for static dissipation. (CAUTION: This product is designed to dissipate static electricity when the metal wire is properly connected to ground, through the fitting or other means).
Resistant to chemicals
Self-extinguishing
Non-marking
Silicone-free
One-piece lengths
Special cut piece lengths available through 1" ID size.
Phthalate Free!