High-quality and hygienically Sanitary Fitting
Featured Product from Kuriyama of America, Inc.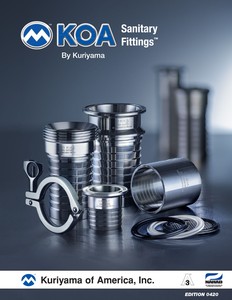 New Sanitary Fitting Arrivals
New items include Tri-clamp Hose Fittings and Clamps in the larger 6" size, NPT Fittings, Weld-on Fittings as well as Male I-line and Bevel Seat fittings. Please check out our updated catalog at https://www.kuriyama.com/catalogs/Sanitary-Fittings-catalog/
Every KOA Sanitary Fitting is certified to meet the stringent criteria of the 3-A® Sanitary Standards RPSCQC for (62-02) for Hose Assemblies, ensuring the safety and purity of the transferred materials. In addition, Kuriyama offers complete 3-A approved hose assemblies through its KVAS program.
The benefits of using hygienically designed hose and fittings include:
Improved food safety & quality
Longer food shelf life
Less cleaning time required
More reliable cleaning
For more info, or to request a catalog, contact Kuriyama