Phthalate Free PVC hose - Unique crystal clear
Featured Product from Kuriyama of America, Inc.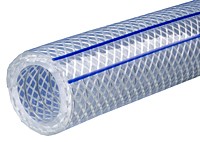 POLYWIRE® Plus Series K7300 Hose Heavy Wall Wire-Yarn Reinforced Vacuum/Pressure Hose
Features
Wire helix reinforcement prevents kinking or collapsing... hose diameter will not expand under normal rated working pressures.
Electro galvanized helical steel wire can be used for static dissipation. Caution: This product is designed to dissipate static electricity when the metal wire is properly connected to ground, through the fitting or other means.
Yarn reinforcement provides higher working pressure.
Heavy duty construction prevents hose O.D. from expanding and I.D. from collapsing.
Crystal clear - allows visual confirmation of product flow Glass-smooth interior - reduces material buildup.
Inner contact surface material is NSF certified for food applications (standard 51). It also meets other criteria such as 3A and USDA.
Resistant to chemicals
Self-extinguishing.
Non-marking.
Non-toxic.
Silicone-free.
Phthalate Free!
Applications
Pressure and vacuum applications which require excellent kink resistance.
Ideal for applications which require the hose to withstand both high vacuum and pressure.
Water transfer.
Liquid food transfer.