Polyurethane Lined Material Handling Hose
Featured Product from Kuriyama of America, Inc.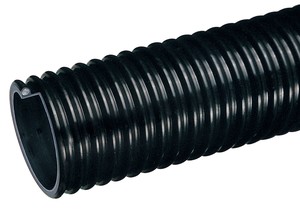 Tigerflex™Amphibian™ AMPH-BK™ Series Abrasion Resistant Polyurethane Hose,
is designed for wet or dry applications where severe abrasion is a factor. Provides longer hose life and lower operating costs versus rubber or PVC hoses. Its new Black colored static dissipative cover is specially formulated to help prevent the build-up of static electricity for added safety and to help keep material flowing smoothly. The use of "Cold-Flex" materials allows the hose to stay flexible in sub-zero temperatures. The oil resistant polyurethane liner resists most animal and petroleum based oils. An ideal hose for industrial vacuum applications involving heavy duty abrasive materials and slurries.
Virtual Catalog Web Link:
https://www.kuriyama.com/catalogs/Tigerflex-Thermoplastic-Industrial-Hoses-Catalog/
Product Specs Web Link:
http://products.kuriyama.com/viewitems/material-handling-4/-lined-wet-or-dry-material-handling-hose-1
Kuriyama of America, Inc.
360 E. State Parkway
Schaumburg, IL 60173
(847) 755-0360
Fax: (847) 885-0996