DEUTSCH Bussing Options
Product Announcement from LADD Distribution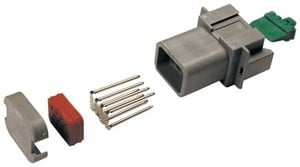 DEUTSCH industrial bussed feedback receptacles are environmentally sealed connectors designed for use in heavy duty applications where multiple circuits require a common electrical pathway. Available in the DT Series, DEUTSCH bussed connectors feature integrated bussbars with standard DEUTSCH contacts.
A bussbar, or buss, is a thin conductive strip connecting two or more contacts within the body of a connector. Bussbars allow power or data to be fed into a connector through one or more terminals and drawn out as needed through the other contacts on the same buss. Connectors can carry one or more bussbars, creating multiple independent electrical circuits within the same connector body and distributing power or data to many components. A single bussed connector can replace several standard connectors or splices, saving space, wiring, and weight.
DT Bussed Feedback receptacles are a compact economical bussing option housed in rugged, field-proven DT receptacle bodies. The bussed DTs mate with standard DT plugs and meet all the performance specifi cations for the DT Series. The connectors are available in multiple buss confi gurations using standard size 16 contacts, with plating options in nickel or gold.
---