J1939 Controller Area Network Solutions
Product Announcement from LADD Distribution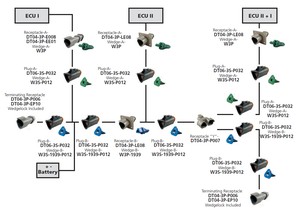 Controller Area Networks, or CAN are multiplex data systems. Multiplexing allows multiple data signals to travel on the same wires, integrating separate electronic systems and applications to a single point control and monitoring system. Using signals sent over a serial network, CAN systems provide instantaneous monitoring of diagnostic and control systems allowing early detection of potential problems. Early detection of problems leads to lower repair costs and reduced downtime. CAN systems allow an operator to use a single command station to control diagnostic systems and receive such varied information as brake and transmission temperature, tire pressure, fuel effi ciency, and emissions levels. Anything that can be measured and controlled electronically can be monitored and directed by a CAN system.
ISO/CD 11783-2 & J1939/12 ISO Box and Associated Connectors
Originally designed for agricultural applications, the DEUTSCH J1939/12 ISO Box creates a communication pathway between an on-board CAN system and the electronic components on an attached implement. The HDBox, which holds two DT13 connectors and an HD30 Series receptacle, mounts on the vehicle and mates with an HD30 plug connector that features a breakaway coupling ring. DEUTSCH breakaway couplings are designed to prevent damage to the vehicle or the attached implement by fragmenting and separating from the vehicle in the event of a drive-away disconnect.
J1939/13 Universal 9-pin Diagnostic
The DEUTSCH J1939/13, HD10 9 pin connector is a standard diagnostic tool for on- and off-highway OEMs. The HD10-9-1939P is a data port connector designed to allow an on-board CAN system to mate with a diagnostic computer. The DEUTSCH HD10 J1939/13 connectors offer several mounting options for the receptacle, and a mating plug that is available with or without a coupling ring.
SAE J1939/11 DEUTSCH Connector Options
DEUTSCH J1939/11 connectors are rugged fi eld proven DT 3 pin connectors designed to meet the SAE requirements for 3-wire CAN applications linking ECUs for serial data communications. The DT 3 way connectors accommodate the CAN_HI, CAN_LO and shield wires with a variety of options including "Y" receptacles, connectors with mounting flanges, keyed wedgelocks to prevent mis-mating, and network terminating connectors with molded-in 120Ω resistors.
SAE J1939/15 DEUTSCH Connector Options
SAE J1939/15 defines the requirements for reduced physical layer 2-wire CAN systems consisting of an unshielded twisted pair of wires. DEUTSCH DTM 2 way connectors are offered in several modifi cations to meet the requirements of this standard. DTM connectors for serial data communications include "Y" receptacles, connectors with end caps and shrink boot adapters, and receptacles with molded-in 120Ω resistors for network terminations.
---