SEALED DEUTSCH Splices - A Unique Solution
Product Announcement from LADD Distribution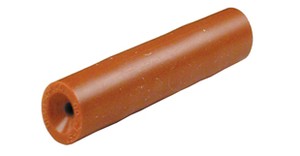 DEUTSCH Jiffy Splices are a unique, field serviceable alternative to permanent splices. Made from the same high quality silicone elastomer as DEUTSCH connector seals and grommets, the Jiffy Splice body houses a contact retention system that secures a mated pair of contacts in a compact environmentally sealed unit. Jiffy Splices are easy to install and service with standard DEUTSCH tools.
Key Features:
• Accepts contact sizes 4 (100 amps), 12 (25 amps), and 16 (13 amps)
• 6-20 AWG
• 1 cavity arrangement
• Accept one pin and one socket.
• In-line mount
Jiffy Splice How To Instructions
Please call LADD Distribution at 1-800-223-1236 or visit www.laddinc.com for more information.
---