128 Cavities in One Bulkhead Connector
Product Announcement from LADD Distribution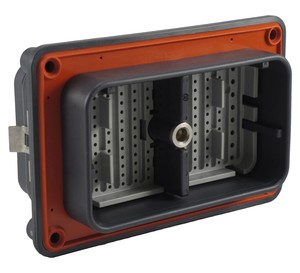 LADD Distribution is pleased to announce the release of DEUTSCH industrial's new environmentally sealed DRB Series 128 cavity receptacle. DEUTSCH DRB Series electrical connectors are ideal for bulkhead applications in the on and off highway, marine, agricultural and industrial markets. The new sealed receptacle is specifically designed to prevent dirt, dust and moisture from contaminating electrical connections.
The new 128 cavity sealed receptacle accepts 112 size 16 contacts and 16 size 12 contacts. Constructed of heavy-duty thermoplastic in a high-density rectangular design, the new receptacle consolidates several connections into a single bulkhead connector. For quick and easy assembly, the new receptacle uses a steel jackscrew for mating and requires no special tools when inserting and removing contacts. To enhance design flexibility, DEUTSCH offers two different sealed mounting flanges. Multiple keying options are also available, preventing mismating.
The DEUTSCH industrial product line and the new DRB Series 128 cavity sealed receptacle offer innovative connector solutions for harsh environments. LADD Distribution, your exclusive authorized US DEUTSCH industrial distributor, is pleased to offer the new receptacle to meet your bulkhead connector requirements. Please contact LADD at 1-800-223-1236 or visit www.laddinc.com for more information on the new DRB Series receptacle and all your DEUTSCH industrial connector needs.
---