Dust Caps Keep Out Moisture and Dirt
Product Announcement from LADD Distribution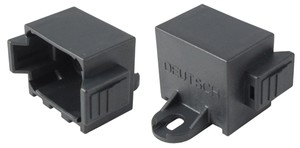 LADD Distribution announces the addition of the DT Series dust cap accessories to the DEUTSCH industrial DT product family. DT Series dust caps provide an environmentally sealed interface for DT Series plug connectors. They are specifically designed for environments where moisture, dirt and rough terrain can contaminate or damage electrical connections.
The DT Series dust caps are available for all DT Series plugs, cavity sizes 2 through 12, and also for the DT16 Series 15 and 18 cavity plugs. The high-performance thermoplastic caps feature an integrated mounting hole which can also be used with a lanyard to keep the cap close when not in use. The DT Series dust caps meet all the standard specifications for the heavy-duty DEUTSCH product line including 3 feet submersion and 125°C temperature rating.
The DEUTSCH industrial product line and the DT Series dust caps offer innovative connector solutions for harsh environments. LADD Distribution, your exclusive authorized US DEUTSCH industrial distributor, is pleased to offer the DT Series dust caps to meet your industrial connector requirements. Please contact LADD at 1-800-223-1236 for more information on the new DT Series dust caps and all your DEUTSCH industrial connector needs.
---