Your DEUTSCH J1939/13 Connector
Product Announcement from LADD Distribution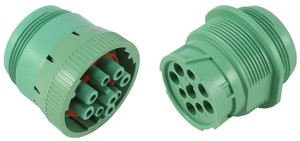 LADD Distribution announces the addition of the new HD10 Series J1939/13 Type II connectors to the DEUTSCH industrial product line. DEUTSCH industrial offers a variety of innovative electrical connector options for controller area networks in industrial and heavy-duty applications. DEUTSCH HD10 Series diagnostic connectors are environmentally sealed and ideal for CAN applications where moisture, dirt and vibration can contaminate or damage electrical connections.
The new green colored HD10 series J1939/13 Type II connectors are compact, 9-pin cylindrical connectors designed for on-board diagnostic applications. Specifically designed for the 2013 J1939/13 standard, the new connectors allow for the transfer of 500 kilobits per second of data and are backwards compatible with 250kbps network DEUTSCH HD10 receptacles. HD10 Series J1939/13 Type II connectors accept size 16 contacts and are available with several different mounting options to meet application specific needs and enhance design flexibility.
LADD Distribution, the exclusive authorized US distributor of DEUTSCH industrial electrical connectors, is pleased to offer the new HD10 Series J1939/13 Type II connectors to meet your electronic and diagnostic requirements. Please contact LADD at 1-800-223-1236 or visit www.laddinc.com for more information on the new HD10 Series J1939/13 Type II connectors and all your DEUTSCH industrial connector needs.
---