Harness the Power of Wind
Featured Product from LAPP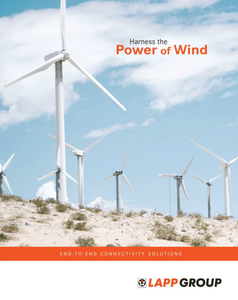 Wind Energy
The cables and connectors found in wind turbines have to endure demanding conditions—from excessive flexing to lightning strikes.
That's why we design our wind turbine tray cables, flexible control cables, industrial connectors and custom cable assemblies to withstand a variety of harsh environmental factors, including humidity, vibration, extreme temperatures, oil exposure, electromagnetic interference and more.
This durability ensures all aspects of your wind turbine, from the pitch system to the yaw drive, run smoothly with minimal downtime.
What's more—our cables are subjected to stringent tests and are compliant with several UL, CSA and LAPP wind industry standards.
Click Here to View Our Lapp Library
LAPP
Since 1959, LAPP has been producing innovative cables, industrial connectors, accessories, and engineered solutions as a worldwide market leader. Oskar Lapp's vision continues today through his wife, Ursula Ida, and his sons, Andreas and Siegbert Lapp.
LAPP has grown to 4,650 employees operating around the world developing, manufacturing and selling more than 40,000 products. With 25 manufacturing sites, 51 company-owned sales operations, more than 100 international offices, and worldwide headquarters in Stuttgart, Germany, LAPP is everywhere you need us to be.