Design Your Own Fiber Optic Cable
Featured Product from L-com, Inc.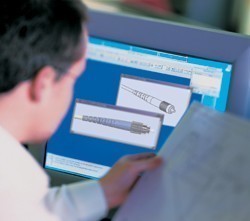 L-com is ISO 9001: 2008 certified and many of our products are UL® recognized. Our manufacturing facilities can build custom products in large or small volumes depending on your needs.
Contact us today with your custom product requirements.
CAD Engineering Services Custom USB Cable Assembly drawing
Design your own custom cable with L-com's online custom cable configurator
This handy cable configurator saves you time by allowing you to design and order your own custom cable assemblies. Our configurator tool allows you to design Fiber Optic, Low Loss Coaxial, RG Style Coaxial and Telecom/Ethernet cable assemblies.
L-coms Custom Cable Configurator Our custom manufacturing capabilities include:
•Assembled and injection molded cable assemblies
•Unique bulkhead adapters
•Fiber optic cable assemblies and adapters
•Sheet metal fabrication
•Custom bulk cable formulations
•Labeling and bar coding
•Machined and cast coaxial connectors and adapters
•Military and special packaging & kitting
•RF antennas
•RF amplifiers
•RF filters and splitters
•Surge protectors
•Weatherproof NEMA Enclosures