Design Your Own Custom Cable
Featured Product from L-com, Inc.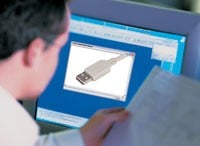 Do you need custom cable assemblies, custom WiFi antennas, custom adapters or other custom connectivity products?
L-com has over 30 years of experience designing and building custom connectivity products. L-com's manufacturing facilities in the U.S. and China can build just about every type of copper or fiber cable assembly as well as custom connectors, wifi antennas, adapters, amplifiers, NEMA enclosures and more. L-com's Product Development and CAD Engineering teams are ready to serve you. L-com is ISO 9001:2008 and UL Certified and has the ability to manufacture custom products in large or small volumes. Fast turnaround is also available.
Customers looking for a custom cable solution can use L-com's online tool for configuring Coaxial, Fiber Optic and Telecom/Modular cables. This handy configurator saves time by allowing you to design your own cable assemblies.