Cat6 and Cat6a Plenum Slim Ethernet Patch Cords
Featured Product from L-com, Inc.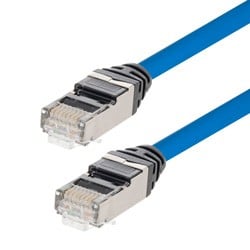 L-com's new Cat 6 and Cat 6a slim-line Ethernet patch cables are the ideal solution for high density patching applications. The patent-pending, spline-free design provides a reduced diameter profile which offers a perfect solution for applications that require a smaller, more flexible cable.
Furthermore, L-com's low profile short boot design saves additional space on patch panels allowing for a clean organized installation. These CMP (plenum)-rated cables meet the most stringent of building burn and smoke codes. The stranded conductor design is considerably more flexible than a standard, solid conductor, horizontal cable with a greater flex life. A robust temperature range of -20°C to +105°C allows these cables to be used in higher temperature applications where standard patch cords would fail.
"Our new plenum-rated cable assemblies comply with stringent building codes by utilizing plenum-rated jackets. They limit the burn time and burn length compared to PVC cables and offer a wide operating temperature range for use in applications where extreme heat is present