Coaxial RF Lightning Surge Protector Series
Featured Product from L-com, Inc.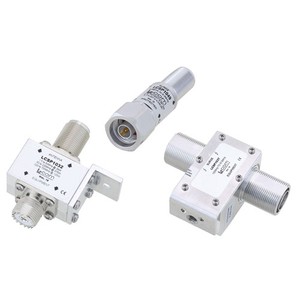 The LCSP RF coaxial lightning surge protector series features VSWR as low as 1.1:1, maxium power as high as 2kW, multi-strike capability, low insertion loss and are available with 4.3-10, 7/16 DIN, Type N and UHF connections. Furthermore, these RF surge protectors support a frequency range from DC to 6 GHz, depending on model and are CE & RoHS compliant.

The majority of the new coax surge protector series is IP67 rated for outdoor use and some RF surge suppression models offer low PIM performance. Additionally, models are available with flexible bulkhead or bracket mounting options. These new coaxial RF surge lightning protector models can be used in Wi-Fi networks, cellular base stations, active antenna systems, DAS networks and public safety systems.
"L-com's new coax surge protectors were developed using a proprietary surge technology that provides fast responses to power and lightning surges. These new surge protectors deliver high RF performance while protecting critical infrastructure devices found in a variety of wired and wireless network deployments," said Steven Pong, Product Manager.
L-com's new RF coaxial lightning arrestor and surge protector series is in stock and available for immediate shipment.