IP67 Cat5e / 6 Waterproof Ethernet Cable Series
Featured Product from L-com, Inc.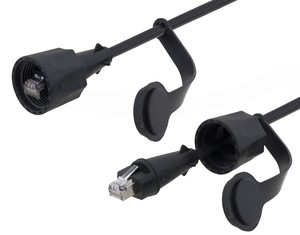 The innovative design of L-com's new IP67 waterproof Cat5e / Cat6 Ethernet cable series allows them to be used with IP rated receptacles for a watertight seal or they can be used with standard RJ45 jacks. This eliminates the need to find specialized IP67 ethernet cables that are IP rated on one end and have a standard RJ45 on the other end. This dual functionality is accomplished by a waterproof shroud that can be pulled back to mate with standard RJ45 jacks.
Additional features for this cat5e and Cat6 IP67 cable series include a foil shield to protect against EMI/RFI interference, a tethered dustproof shroud cap and a CMX outdoor burn rating. These versatile Ethernet cables are available in both Category 5e and Category 6 versions and are compatible with L-com's WPBH series of RJ45 jacks for an IP67 rated seal.
"These new IP67 Ethernet cables provide the flexibility of being able to mate to standard or IP rated jacks meaning our customers can save time and money by purchasing just one assembly to address multiple application. The innovative design of these cables is sure to appeal to our industrial, military and transportation customers," said Dustin Guttadauro, Product Manager.
L-com's new Cat5e and Cat6 IP67 waterproof Ethernet cable assemblies are in stock and available for immediate shipment.