PoE Injector with 48VDC Power Supply in Wall Mount
Featured Product from L-com, Inc.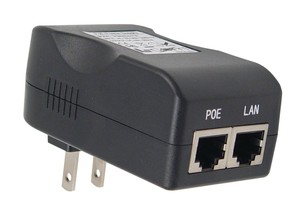 L-com, Inc., a designer and manufacturer of wired and wireless connectivity products, has added a wall mount 48VDC all-in-one Power-over-Ethernet (PoE) injector.
The all-in-one PoE injectors are designed to simplify PoE setups and minimize their space requirements by eliminating the need for a separate power supply. Among the wall mount items introduced in August were a 12VDC unit and a 24VDC unit. Most radio products like wireless access points and bridges require 48VDC, however, which L-com only covered with desktop models. This new wall mount model is ideal for tight spaces such as L-com's 120VAC Industrial enclosures or AC Universal Outlet enclosures since it can convert them into a 48VDC PoE ready enclosure.
"We immediately recognized a need for a wall mount 48VDC product for our all-in-one line," said Patrick Pesa, Director of Product Development. "We quickly designed a model to accommodate the wireless radio applications that we already support with antennas, cables, and enclosures."