Glow Discharge Atomic Emission Spectrometer
Product Announcement from LECO Corporation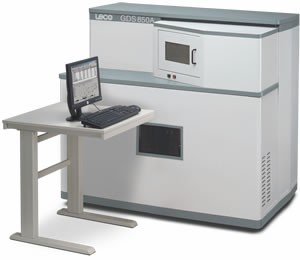 Looking for the latest technology available for highly accurate bulk analysis as well as quantitative depth profiling for coatings analysis and surface treatments? The GDS-850A focuses the latest technology in hardware and software design to enhance your performance requirements for both process control and research and development investigations. This instrument offers a spectral range from 120 - 800 nm and may be configured with up to 58 channels.
Features
Separation of sputtering and excitation
Linear calibration curves with wide dynamic range
Lowered self absorption and material re-deposition
Excitation of almost exclusively atom lines
Fewer and narrower emission lines reduce interference
Freedom from metallurgical history
Fewer standards required for calibration
Low Ar gas consumption
Automatic cleaning between samples
Frequently Asked Questions
Brochure
Please click on the links to the right for more information or request a quote today!
---