3GHZ 75 Ohm Coaxial Contact
Featured Product from LEMO USA, Inc.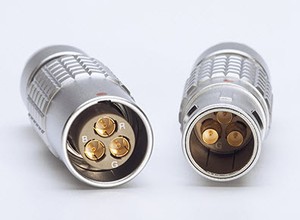 This new contact is particularly well suited for 3x coaxial (HD), 4x coaxial (4K) and 10x coaxial (8K) applications taking multiple HD-SDI BNC type connectors into one integrated connector, making interconnections simpler and more compact. LEMO's new 3GHZ 75 Ohm coaxial contact, designed for RG179 B/U type cables, are LEMO's smallest 75 Ohm for multi-coax and hybrid coax connectors providing signal integrity for video applications. This new contact can be used in various insulator configurations as well as in combinations of coaxial and low voltage signal contacts, providing a perfect solution for the broadcast market as an alternative to HD-SDI. These new contacts can be built into watertight connectors with IP66/68 ratings such as the K, T and W series.