HDTV Connection System
Featured Product from LEMO USA, Inc.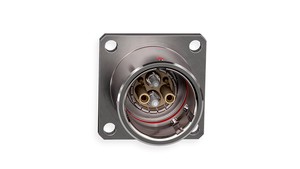 Broadcast HDTV - 3K.93C.Y series - SMPTE 304
SMPTE connector
3K.93C.Y Series - SMPTE hybrid connector
The 3K.93C.Y Series connector was designed in 2017. The new design has less components and offers innovative features- including the FS contact. The simplified FS contact has a reduced number of components and fits into a new connector shape. This solution is fully SMPTE (interface compatible). The downside is no component or spare part is compatible with the previous LEMO connector version.
The new insulator is made in two sections and the sideways insertion of the optical contacts prevent any push-back on the optical contacts. No more optical extractor are required to remove these contacts.
Advantages:
New design allows easy fibre length adjustment.
No more half shells are required.
Increased space for the fibres to move "more" freely in the connector.
Reduced curing time for the optical contacts (new design allows epoxy to cure within 20 minutes).
Simplified potting of the rear of the connector, offering extended resistance.
All of these advantages make the 3K.93C.Y an innovative product line that makes no compromise to quality.
Main Features:
Hybrid with:

2 fibre optic contacts
2 signal contacts
2 power contacts and ground

Push-Pull self-latching
Keying W code
Over 11 shell styles
Stainless steel shell
Temp. range -55°C to 90°C
Shielded
Conform to ARIB standard
Conform to SMPTE 304 standard
UL approved file E119802
IP68
For cable ø 8.6 to 9.5 mm
View the >>>>CONNECTED magazine by LEMO
Watch>>>LEMO Connectors Company Presentation
About LEMO LEMO is a global leader in the design and manufacture of precision custom connection solutions. LEMO's high quality connectors are found in a variety of challenging application environments including medical, industrial control, test and measurement, audio-video, broadcast and telecommunications. LEMO now offers cable & wire as well as cable assembly services.
Download our Unipole Multipole General Catalog
About Northwire, Inc. Founded in 1972, Northwire Technical Cable (www.Northwire.com) is privately-held company headquartered in Osceola, WI, USA. Northwire markets, designs and manufactures technical and retractile cable and assemblies for diverse applications including broadcast, energy, life sciences, government, industrial, machine vision, architectural lighting, underwater and more.
For more information about LEMO connectors, please call LEMO USA at (800) 444-5366 or visit www.lemo.com. For editorial contact Julie Carlson, Marketing Communications, 707-206-3776 or jcarlson@lemo.com.