Harsh Environment Connector
Featured Product from LEMO USA, Inc.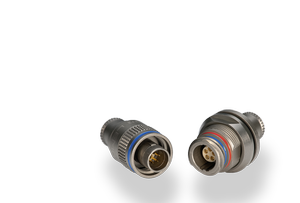 Harsh Environment Connector
M Connector
Ratchet screw system enables quick and secure coupling of the connectors. Connectors for harsh environment with multiple alignment keys.
M series connectors are lightweight triplestart ratchet coupling type connectors designed for avionics, aerospace, military, security, motorsport and heavy duty applications.
The products is a COTS (Commercial Off-The-Shelf), fulfil various MIL –spec requirements and answer most of the MIL-DTL-38999 requirements.
The connectors are smaller in size for the same number of pins than standard MIL 38999 products.
A threaded option allows mounting standard MIL-DTL-38999L backshell.
The M series are identified with a laser engraved part number and production batch number to ensure full traceability from raw materials to delivered product, with many options held in stock.
Main Features:
Multipole 2 to 114 contacts
Fibre optic contacts
USB feature
Ratchet coupling mechanism
6 keying options
Compact and lightweight
Oil and fuel resistant
12 shell styles
Temp. range -50°C to 200°C
Shielded
Crimp or print contacts
High vibration resistance (gunfire test)
High shock resistance
Optional anti-vibration flange fixing
Dark finish
Nicoral salt spray corrosion resistant
MIL-STD-810F
Downloads:
View the >>>>CONNECTED magazine by LEMO
About LEMO LEMO is a global leader in the design and manufacture of precision custom connection solutions. LEMO's high quality connectors are found in a variety of challenging application environments including medical, industrial control, test and measurement, audio-video, broadcast and telecommunications. LEMO now offers cable & wire as well as cable assembly services.
About Northwire, Inc. Founded in 1972, Northwire Technical Cable (www.Northwire.com) is privately-held company headquartered in Osceola, WI, USA. Northwire markets, designs and manufactures technical and retractile cable and assemblies for diverse applications including broadcast, energy, life sciences, government, industrial, machine vision, architectural lighting, underwater and more.