Patch panel solutions in various configurations
Service Detail from LEMO USA, Inc.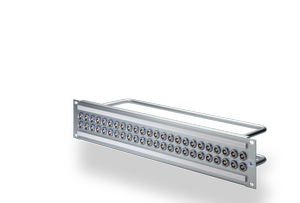 Enclosures - Patch Panel - SMPTE
LEMO can offer patch panel solutions in various configurations. 1U, 2U or 3U rack, all patch panels are made of aluminium or stainless steel and precisely drilled to the appropriate dimensions.
These racks and enclosures can be used for both indoor and outdoor and can be customized to meet customer specific needs. In addition, LEMO offers splice tray solutions for SMPTE/ TRIAX connector or wall box solutions and patching units. Patch panel with LEMO SMPTE EDW, FMW, PEW models and patch cord assemblies can be made
Whether you need a large production run or a prototype, LEMO can meet your requirements.
View the >>>>CONNECTED magazine by LEMO
Watch>>>LEMO Connectors Company Presentation
About LEMO LEMO is a global leader in the design and manufacture of precision custom connection solutions. LEMO's high quality connectors are found in a variety of challenging application environments including medical, industrial control, test and measurement, audio-video, broadcast and telecommunications. LEMO now offers cable & wire as well as cable assembly services.
Download our Unipole Multipole General Catalog
About Northwire, Inc. Founded in 1972, Northwire Technical Cable (www.Northwire.com) is privately-held company headquartered in Osceola, WI, USA. Northwire markets, designs and manufactures technical and retractile cable and assemblies for diverse applications including broadcast, energy, life sciences, government, industrial, machine vision, architectural lighting, underwater and more.
For more information about LEMO connectors, please call LEMO USA at (800) 444-5366 or visit www.lemo.com. For editorial contact Julie Carlson, Marketing Communications, 707-206-3776 or jcarlson@lemo.com.