Self latching connectors for nuclear environments.
Featured Product from LEMO USA, Inc.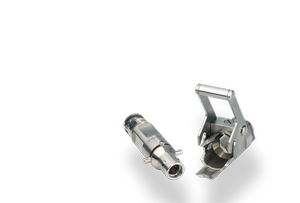 N Connector
Remote handling self latching connectors suitable for operating in nuclear environments.
The N Series connectors from LEMO are designed for robotic manipulator arms in remote handling environments, such as the robotics that operate in hot cells, and for use on nuclear robots themselves
Description:
• Multipole 2 to 64 contacts
• Coaxial 50 and 75 Ω
• Triaxial 50 and 75 Ω
• Thermocouple 2 to 6 contacts
• Multi or mixed contacts with:
Coaxial 1 to 14 contacts
High voltage 1 to 21 contacts
Fibre optic 1 to 14 contacts
Fluidic 1 to 14 contacts
Main Features:
• Push-Pull self-latching
• 4 sizes
• Special shell design
for manipulator handling
• Temp. range -55°C to 200°C
• Stainless steel shell as a standard
• Solder, crimp or print contacts
• Resistance to 10e6 Gray
• EPDM glands

• IP66
• For cable ø 7.5 to 28.5 mm
Downloads:
View the >>>>CONNECTED magazine by LEMO
About LEMO LEMO is a global leader in the design and manufacture of precision custom connection solutions. LEMO's high quality connectors are found in a variety of challenging application environments including medical, industrial control, test and measurement, audio-video, broadcast and telecommunications. LEMO now offers cable & wire as well as cable assembly services.
About Northwire, Inc. Founded in 1972, Northwire Technical Cable (www.Northwire.com) is privately-held company headquartered in Osceola, WI, USA. Northwire markets, designs and manufactures technical and retractile cable and assemblies for diverse applications including broadcast, energy, life sciences, government, industrial, machine vision, architectural lighting, underwater and more.